Superpowers and Prayer
I used to dream that I had the super-power to make things happen according to my will. As a preteen and teen, I remember imagining what it would be like if I could fly, move things with my mind, or could create things out of thin air. It was always fueled by fantasty sci-fi books and the really wild dreams I would have at night (perhaps linked to the sci-fi books?). As I got older though, I put those dreams away. I began to listen to the world around me and began to believe that those childish fantasies needed to be put away so I could find my place in the adult world.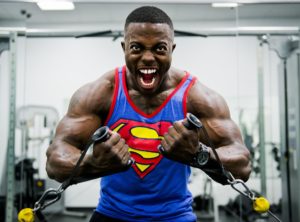 I wonder now at my foolishness. Not at the imagining of grandiose things, but at my belief that I needed to put those away rather than realizing the power that was available to me.  Later on, I came upon the power of prayer. I began to realize that there was a power I had never fully tapped into before. Sure, I had prayed before. But I often just went through the motions of prayer and asked for those things I thought I was to ask for. I said the right things but didn't really expect much. It was just something a Christian does, right?
God likes to take the box we place Him in and show how it's too small for Him. He began answering the prayers I had routinely asked for and made it clear that He was the only way that those prayers could have come about. I remember coworkers who didn't even believe in God seeing God move in ways that they couldn't explain. I smiled and shared how it happened while inside I was blown away. I marveled at what God was doing! Why hadn't someone told me this would happen?! That if I asked God for something, He wouldn't be content in just letting me believe He wouldn't give it to me? This was bigger than even my childish fantasies as a child!
Did you know that there are over 650 prayers recorded in scripture? Each has something to teach us. But here is the first tidbit I would share with you. Prayer is not about having power. Prayer is about God having power and responding to you.
My childish dreams led me to believe that I had power. That something intrinsic in me could change the world. As I got older, the darkness of depression and suicidal thoughts were in part, a result of coming to believe that I had no power. That I was subject to whatever forces were around me and that I had no control. Then God showed up. And I realized both were true. There is nothing intrinsic in me that can change the world. But there is a power that is available to me; through Christ. The power is there. It's not a fantasy or some childish delusion. It's not about me having power, it's about God having power and responding to my prayer.
Imagine having an all-powerful, loving, all-knowing God listening to everything you are asking for and just waiting to respond. Isn't that a power worth cherishing and daydreaming about? Isn't that the heart of prayer we see in scripture? Pray. And relish in the delight of the super-power given to all those who follow Christ! Pray!